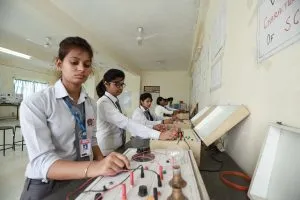 Electronics & Communication engineering is the most versatile and fascinating branch of engineering as it finds more and more application daily human life systems ranging from simple to complex such as space interrogation, miniaturization, manufacturing etc. Hence knowledge of this branch has now become a necessity to everyone.
This branch deals with analog and digital transmission, reception of data, voice and video, basic electronics, solid state devices, microprocessors, digital analog communication, microwave engineering, antennae, wave propagation, etc. The department has well qualified, experienced and dedicated faculty ready to keep pace with the advances in the field of Electronics & Communication Engineering. It has laboratories that are manned by experienced trainers.
The department has established following laboratories:
Operating System Lab
Electronics Lab
Microwave Lab
PCS Workshop & Design
Computer Aided Design & Simulation Lab
Digital Electronics Lab
Communication Lab
Instrumentation & Measurement Lab
Microprocessor Lab
Digital Signal Processing Lab
After the completion of course, students can get ample opportunities from IT companies like TCS, Infosys, Wipro etc.