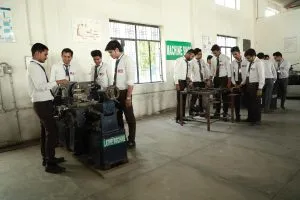 Mechanical Engineering, an evergreen branch of engineering, is one of the well equipped departments of the college. It deals with design, structural, architectural, installation, operation, trouble shooting and maintenance of different types of machines and systems of industries like automobile, refrigeration, air conditioning, measurement etc.
The faculty of this department is always keen to follow new trends and developments of mechanical machines and processes. A remarkable feature of this department is the central workshop which is housed in a separate spacious shed. It has lathe, slotting and shaping machines, etc. in addition, it has manufacturing science and automobile laboratories. The staff in central workshop and laboratories of the department is well qualified and experienced to assist the students in their practical classes.
The department has following laboratories fully equipped with all the experimental setups, modern machines and sophisticated instruments :
Mechanical Engineering Lab
Fluid Machinery Lab
Refrigeration and Air Conditioning Lab
Material Science & Testing Laboratory
Measurement, Meteorology & Control Lab
Applied Thermodynamics Lab
Fluid Mechanics Lab
Heat & Mass Transfer Laboratory
Manufacturing Science Lab
Central Workshop
Mechanical Engineering graduates may seek job opportunities in manufacturing, automobile, power, refrigeration and allied industries, designing software, research & development, etc.